EVASION, ELARGIR et LUCIOLE : 3 jeux tablettes du projet FLUENCE pour prévenir les difficultés d'apprentissage de la lecture et de l'anglais
The article presents the 3 tablet applications designed in the FLUENCE project as part of the e-Fran component of the Future Investment Program (PIA2). These applications were designed to improve performance in reading (EVASION and ELARGIR) and in oral English comprehension (LUCIOLE). The results of the first two years of experimentation with 1,500 beginner readers show that training with EVASION improves the visual attention skills involved in reading. In the absence of an objective effect on reading, but thanks to recordings of the students, a revised version of ELARGIR will soon be tested. Students who use LUCIOLE have better performance in oral English comprehension.
L'article présente les 3 applications sur tablettes conçues dans lors du projet FLUENCE dans le cadre du volet e-Fran du programme d'investissement d'avenir (PIA2). Ces applications visent l'amélioration des performances en lecture (EVASION et ELARGIR) et en compréhension de l'anglais oral (LUCIOLE). Les résultats des deux premières années d'expérimentation auprès de 1 500 élèves débutant-lecteurs montrent que s'entraîner avec EVASION améliore les capacités d'attention visuelle impliquées en lecture. En l'absence d'effet objectivable sur la lecture mais grâce aux enregistrements des productions des élèves, une version révisée d'ELARGIR sera prochainement expérimentée. Les élèves qui utilisent LUCIOLE ont de meilleures performances en compréhension de l'anglais oral.
Fichier principal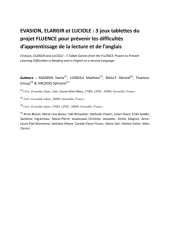 Article PRUNE Mandin et al_soumis.pdf (635 Ko)
Télécharger le fichier
Origin : Files produced by the author(s)