Internet au service de la tâche : un travail d'ajustements
In the field of language teaching and learning, the Internet.plays.an.important.role..Not.only.because. of. the. many. teaching. resources. and. authentic. do- cuments.that.can.be.found.there,.but.because.using. Internet.is.an.activity.which.is.part.of.the.wider.so- cial.context.of.everyday.life..Its.parallel.use.in.the. classroom fits perfectly with the tenets of the ac- tion-oriented.approach.(Council.of.Europe,.2001).. Through.the.analysis.of.teaching.scenarios,.elabora- ted.within.the.framework.of.the."Forttice".project,. and.the.study.of.the.process.which.led.to.their.crea- tion,.this.article.will.discuss.the.areas.of.resistance. to.the.successful.integration.of.the.Internet.and.tas- ks.in.the.French.foreign.language.classroom.(FFl)..
Dans le domaine de l'enseignement/apprentissage des langues, Internet a un rôle important à jouer. Non pas tant en raison des multiples ressources pédagogiques et authentiques que l'on peut y trouver que du fait que son utilisation s'inscrit dans le cadre de nombreuses activités de la vie quotidienne. La transposition de ces activités en classe relève en effet parfaitement de la perspective actionnelle (Conseil de l'Europe, 2001). Cet article montre, à partir de l'analyse de scénarios pédagogiques réalisés dans le cadre du projet Forttice et de l'étude du processus qui a abouti à leur élaboration, quels sont les lieux de résistance à une intégration réussie d'Internet et des tâches en classe de français langue étrangère (FLE).
Fichier principal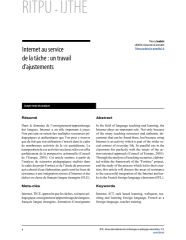 (2010) RITPU.pdf (355.8 Ko)
Télécharger le fichier
Origin : Explicit agreement for this submission