Esquis'sons ! Outils d'aide à la conception d'environnements sonores durables
The present project explores in 6 sustainable neighbourhoods in Europe (Germany, Spain, France and Sweden) the sound qualities of intermediate spaces located on the building facades like balconies, loggias, terraces and circulations. A cross analysis of the physical dimensions of the built space, of the sound environment and of the user's perceptions allows to describe the minimum conditions of existence of these remarkable sound situations. All of this work is compiled in a directory that is the first tool for sound design of such type of spaces. This directory is available in paper format in the Appendix of this report and online on the portal Esquis'Sons (esquissons.fr). Thanks to this application (free download on the website), it is possible to make a 3D virtual environment sounds and to hear the impact of architectural choices made by designers. The auralization module is informed by the geometric characteristics of the spatial pattern and vice versa. In other words, this application lets you sketch a space by listening.
Ce présent projet étudie dans 6 quartiers durables en Europe (Allemagne, Espagne, France et Suède) les qualités sonores des espaces intermédiaires situés en façade de bâtiments que sont les balcons, les loggias, les terrasses et les circulations. Une analyse croisée de la forme physique, de l'environnement sonore et du ressenti des usagers permet de faire émerger les conditions minimales d'existence de situations sonores remarquables. L'ensemble de ce travail est compilé dans un répertoire qui est le premier outil d'aide à la conception sonore de ce type d'espace pour les architectes. Ce répertoire est consultable en format papier en annexe de ce rapport et en ligne sur le portail Esquis'Sons (esquissons.fr). La recherche articule à cette analyse un outil d'esquisse sonore qui intègre les principaux résultats de la phase de terrain dans une interface paramétrique utilisant les logiciels Rhinoceros, Max MSP et le plug-in Grasshopper. Grace à cette application (en libre téléchargement sur le site), il est possible de « sonoriser » un environnement virtuel 3D et d'entendre les conséquences de choix architecturaux. Le module d'auralisation est informé par les caractéristiques géométriques du modèle spatial et inversement. Autrement dit, cette application permet d'esquisser un espace en l'écoutant.
Fichier principal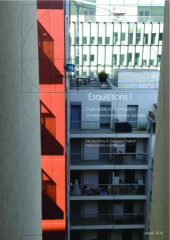 88_2016_esquissons.pdf (208.31 Mo)
Télécharger le fichier
Origin : Files produced by the author(s)