L'ouverture de l'amont pétrolier à des compagnies privées. Un cadre d'analyse en termes d'économie des coûts de transaction
By drawing on transaction cost economics, this article identifies the coordination problems and contractual hazards resulting from the upstream oil transaction between oil states and private companies. It contributes to a better understanding of the different functions of a national oil company in the governance of transaction. Public companies can complement or replace coordination through contractual arrangements. We therefore propose and discuss the idea that the functional effectiveness of an oil governance structure depends on the consistency between the place of the public company in this structure and the state's capacity to ensure effective regulation through contracts.
Cet article mobilise le cadre théorique de l'économie des coûts de transaction pour identifier les problèmes de coordination et les aléas contractuels de la transaction d'ouverture de l'amont pétrolier aux compagnies privées. Cela nous permet d'affiner la compréhension des fonctions de la compagnie pétrolière publique dans la gouvernance de la transaction. Cette dernière assure une fonction de complément et de substitut à la coordination contractuelle. Nous pouvons alors avancer l'idée selon laquelle la viabilité de la structure de gouvernance pétrolière dépend de la cohérence qui existe entre le positionnement de la compagnie publique dans la structure, d'un côté, et la capacité de régulation contractuelle de l'État, de l'autre.
Fichier principal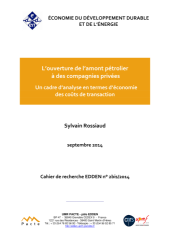 CR2bis-2014_Rossiaud_ouverture.pdf (664.25 Ko)
Télécharger le fichier
Origin : Files produced by the author(s)