Visions et construction d'un territoire, l'Oisans au cours des années 1960
A 19th November 1960 French decree gave birth to the interministerial committee dedicated to mountains development. This committee initiated a national policy for touristic development so as to bring more modernity to mountain territories. In the Oisans area, local stakeholders, on the grounds of their own survival, while looking for economic reorientation, agree with this vision as a real identity lobby, through a quest for leisure infrastructures. Controversies about mountain sacking seem to be rubbed out by each village's hope to become a place dedicated to winter sports. However, both the two rapidly expanding big tourist spots and the national park project bring us to question this uneven dynamics. By analysing the 1960s local press on Oisans' scale, this article offers to explore, in a historical way and through the prism of the innovation concept, the process through which sports practice, stakeholders and areas interact to bring new territorial realities to life.
La création du comité interministériel à l'aménagement de la montagne par décret du 19 novembre 1960 amorce une politique nationale de développement touristique qui entend faire passer les territoires de montagne de l'archaïsme à la modernité. En Oisans les acteurs locaux, au motif de leur survie et en quête de réorientation économique, consentent à cette vision normative par une course à l'équipement en infrastructures de loisirs. Les controverses à propos de la montagne saccagée semblent gommées par l'espoir de chaque village de devenir un lieu dédié aux sports d'hiver. Mais les deux grands ensembles touristiques en pleine expansion et le projet de création d'un parc national amènent à interroger cette dynamique asymétrique. Par une analyse de la presse locale à l'échelle de l'Oisans au cours de la décennie 1960, cet article propose d'explorer, dans une perspective historique et au prisme du concept d'innovation, les processus par lesquels pratiques sportives, acteurs et espaces interagissent pour faire apparaître de nouvelles réalités territoriales.
Fichier principal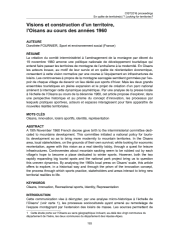 cist2016_visions_et_construction_territoire_oisans_annees_1960.pdf (673.69 Ko)
Télécharger le fichier
Origin : Files produced by the author(s)