Qui sont les Jeunes Ramau ?
In 2018, Ramau celebrated its 20th anniversary. The network was built over time through the contributions of members – researchers and professionals – from French and European Architecture Schools and Urban Planning Institutes (Switzerland, Belgium). The network has recently observed that an increasing number of graduates in architecture and urban planning are turning to research (doctorates, teaching) and participating in its activities (publications in the Papers, symposia). In order to better identify this new generation's socio-demographic characteristics and the nature of its activities, a new branch of Ramau was born: "Young Ramau". A questionnaire distributed by the network got about thirty replies. This article describes the survey's results and illustrates these with a series of portraits that resonate with the network's preferred themes: the international dimension, participation, sustainability and more generally, urban production.
En 2018, Ramau a fêté ses vingt ans. Le réseau s'est consolidé au fil du temps avec l'apport des membres – chercheurs et professionnels – des Ensa et des Instituts d'urbanisme français et européens (Suisse, Belgique). Il fait aujourd'hui le constat que les diplômés en architecture et en urbanisme sont de plus en plus nombreux à se tourner vers la recherche (thèses, enseignement) et à participer à ses activités (publications dans les Cahiers Ramau, rencontres). Aussi, pour mieux identifier les caractéristiques sociodémographiques et la nature des activités de cette nouvelle génération, une branche de Ramau est née, baptisée les « Jeunes Ramau ». Un questionnaire, élaboré et diffusé par le réseau, a reçu une trentaine de réponses. L'article en décrit les résultats, éclairés par une série de portraits qui entrent en résonance avec les thèmes de prédilection du réseau : la dimension internationale, la participation, la durabilité et, plus généralement, la fabrique de la ville.
Fichier principal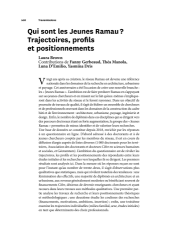 14_brown_10_ramau.pdf (2.11 Mo)
Télécharger le fichier
Origin : Publication funded by an institution